PPP rules have changed. Should you rethink your plans?
COVID-19 Webinars
06.17.2020 | 1pm EDT
This free webinar on the recent changes in PPP Loan Forgiveness and guidance on next steps was held June 17, 2020 at 1 pm EDT.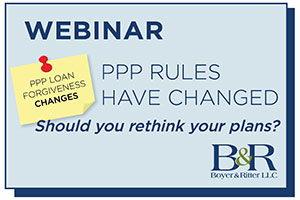 Download the slides from the June 17 webinar.
View the recording of the webinar:
Webinar overview:
Changes approved June 5, 2020 to the Paycheck Protection Program (PPP) give businesses broader latitude in how to spend their loans and still qualify for forgiveness, as well as extending the time to use and pay back the money.

While the changes bring welcome flexibility to the program, it is still imperative that businesses carefully track and document how they spend their PPP funds to ensure they receive maximum loan forgiveness.
This webinar includes:
A look at the provisions of the new PPP Flexibility Act of 2020
Things to consider in your PPP spending strategy
Frequently asked questions
Who should attend? If you've heard us in past webinars, the rules changed previous guidance significantly. Any businesses, sole proprietors or nonprofits that received PPP loans should consider next steps.
Presented by: Raymond Brown, Benjamin Bostic and Jay Goldman
Professionals
Related Services