Students & Campus Recruiting
Accounting4Leaders Externship and Internship Program

Explore. Engage. Excel.
In our Accounting4Leaders program, Boyer & Ritter will give YOU a snapshot of our exciting field! Boyer & Ritter offers programs for high school and college students, designed to introduce you to the world of public accounting.
Explore.
Boyer & Ritter's "Explore" program is designed to introduce high school students to public accounting. Students will have the opportunity to shadow our accounting professionals and learn more about the basics of a career in public accounting.
Engage.
Our externship-style program is an immersive experience college students a real look at the public accounting field and what Boyer & Ritter offers. It is also a great opportunity to network with our accounting professionals.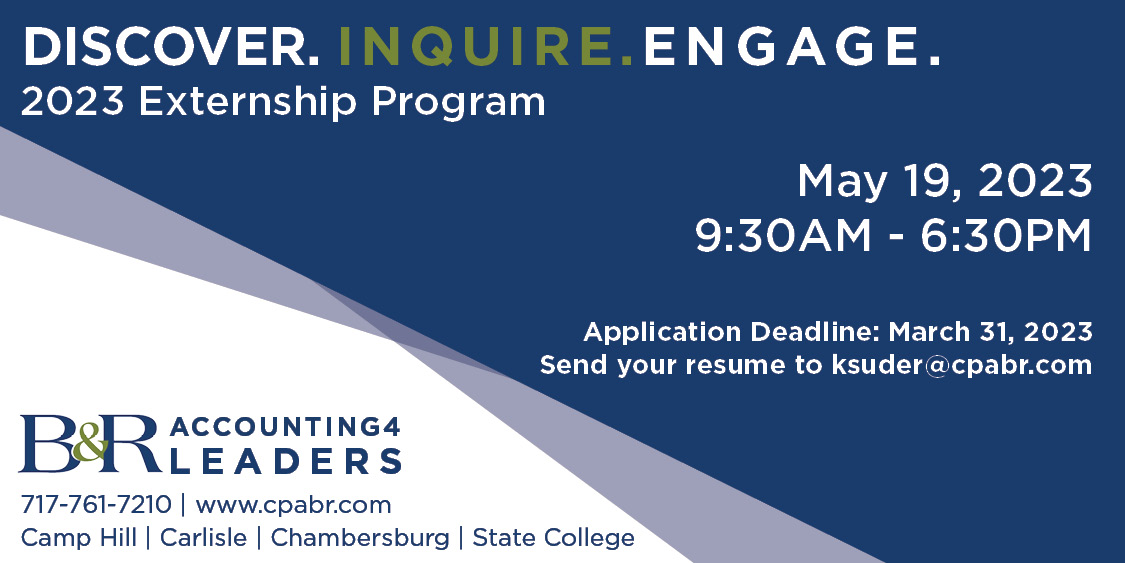 Excel.
The internship program takes place within the spring and summer semesters. It provides students with an opportunity to work within various practice groups and gain exposure to the exciting variety of career opportunities within public accounting. Paired with a mentor, our interns have the opportunity to work with clients and apply what they learned in the classroom.
If you want to learn more about an exciting Internship opportunity with Boyer & Ritter or would like to apply for current intern openings, please review the details under Current Opportunities and submit your resume to be considered.
Recruiting Events
Campus Visits
Boyer & Ritter recruits accountants from some of the best colleges and universities in the region and makes a point of holding annual campus visits and accounting career fairs to meet the future stars of Boyer & Ritter.
These visits allow students to learn about our culture by talking to our professionals, many of whom are graduates of the colleges and universities they visit. We believe nothing beats talking to our current rising stars on their personal Boyer & Ritter career journey.
Our campus visits allow students to hear how a career in public accounting and becoming a CPA can be exciting and rewarding.
If your school is not on our visitation schedule, please submit your résumé and transcripts to our HR department at HumanResources@cpabr.com so we can contact you.
Professional Development
At Boyer & Ritter, we invest in you
Boyer & Ritter is committed to the success of our professionals and offers a wide range of benefits designed to help you reach your potential. From day one, we focus on giving you the support you need to advance your career.
Designation Support
We encourage our accountants to pursue professional certifications and designations like CPA, CFE, ABV, and more. In addition to providing time at work to study, Boyer & Ritter will reimburse a portion of the fees associated with pursuing professional designations. Once you successfully pass your CPA exam, you will receive a bonus as a reward for your accomplishment.
Continuing Professional Education (CPE)
Boyer & Ritter offers unlimited access to CPE programs to help our professionals stay ahead of the changes impacting the industry and continue to grow to better serve our clients.
Boyer & Ritter NexGen Coaching
Making the transition from the classroom to career can be challenging, which is why from day one we pair our new professionals with one of our experienced leaders. The Boyer & Ritter NexGen program is focused on personal and professional coaching to help you reach your potential.
Boyer & Ritter University
From the moment you step in the door, we connect you with your peers, who will help you learn about Boyer & Ritter with hands-on training designed to give you the confidence and knowledge to succeed. We have developed a roster of courses for each of your first six years at Boyer & Ritter, where you will learn the tools and skills necessary to be a leader in our firm and our community.
Careers at Boyer & Ritter
Lifestyle and Culture: A firm where you count
It is important to start your career with a firm where you feel valued, can make a difference, and are genuinely encouraged to be your best self. Boyer & Ritter features a strong staff development program that includes comprehensive cross-training in tax, audit, and consulting services. Our team learns to provide a full range of services to clients before so we can identify the area that best suits our individual strengths and niche expertise. We set ourselves apart from other firms by educating staff at all levels, creating growth opportunities for our accountants, and allowing them to form deeper relationships with the clients they serve. Our clients value our professionals as knowledgeable consultants and trusted advisors.
Our career development style means new graduates who come to Boyer & Ritter are also exposed to the wide range of industries we serve, as well as learn a depth of knowledge in tax and auditing responsibilities. Our practice concentrations include privately-held businesses, dealerships, public sector services, construction and real estate, manufacturing, employee benefit plans, and more.
If you want to make the most of your accounting career, you've come to the right place.
Volunteerism
Boyer & Ritter believes in giving back to the communities where we live, work, and do business. We encourage ALL employees to volunteer time and talent to serve our community. Opportunities for outreach takes many shapes, from being involved through our (internal) Community Outreach Committee to firm-supported board and committee service, and most things in between. Learn more.
"At Boyer & Ritter you really do have the opportunity to shape and be in charge of your career."
- JORDAN SALLAVANTI