PPP Fall Update: Maximizing Forgiveness
COVID-19 Webinars
10.23.2020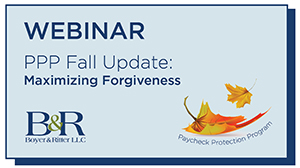 This free webinar on the recent changes in PPP Loan Forgiveness and guidance on next steps was held October 30, 2020 at 10 am EDT.
This webinar will cover:
The release of the SBA Procedural Notice related to PPP loans and Changes of Ownership
The release of the new forgiveness application form (3508S) for loans under $50,000
The release of additional FAQs
Boyer & Ritter PPP Loan Forgiveness Support Services
Who should attend? Any businesses, sole proprietors or nonprofits that received PPP loans and would like to apply for forgiveness.
Presented by: Jay Goldman, Raymond Brown, and Mark Banks
Related Materials
Professionals
Related Services