2020 has enough stressors. Learn 7 ways to make sure your nonprofit's next audit isn't one of them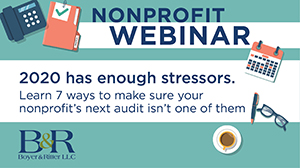 This free webinar was held November 10, 2020 at 1pm EDT.
Unlike the uncertainties of what the continuing coronavirus pandemic may bring, your nonprofit's annual checkup doesn't have to be viewed with teeth-clenching nervousness or dread.
This webinar will cover:
Why you need an audit or review
How to streamline your audit preparation process to have an efficient, stress-free audit experience
Understand and prepare to apply for PPP loan forgiveness
Presented by: Dave Manbeck, Jeremy Scheibelhut, and Mark Banks
Related Materials
Professionals
Related Industries