Accounting for the nonprofit: TIDYING UP your accounting
Seminars
Carlisle Country Club
06.21.2019 | 9AM - 3PM
The June 21, 2019 seminar is complete. Stay tuned to our Events page for more information on nonprofit event dates, location and topics.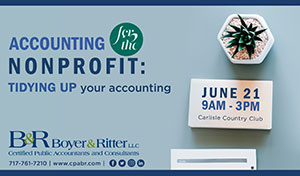 View a PDF of the event invitation
Seminar Topics:
Insurance sweep: are you really covered?
Recent tax updates: clearing the cobwebs
Tools for aligning HR with your strategic plan
Preparing for your audit
Housekeeping: essential policies for nonprofits
Financial statement changes: out with the old, in with the new
Are you a magnet for external fraud?
Payment:
Please download the PDF invitation and complete/detach the registration form with an enclosed check for $25/attendee OR register and pay by credit card
This program is valid for 5.5 CPE credits.
$25/attendee – registration fee includes breakfast, lunch, and materials.
Email questions to mstambaugh@cpabr.com