Stay out of the headlines: reducing risk in your employee benefit plan
Seminars
Hershey Lodge
April 30, 2019 | 8AM - NOON
The April 30, 2019 Employee Benefit Plan seminar is complete. Stay tuned to our Events page for more information on seminar dates, location and topics.
View a PDF of the event invitation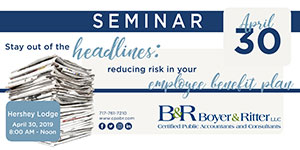 Seminar Topics:
Trending…Cyber Security! What You Must Know to Protect Your Employees
Navigating the Fog: Understanding and Evaluating 401(k) Plan Costs
What's the Big Deal? Get the Skinny on the Top 10 Most Asked Audit Questions
Case Studies in ERISA Law – Know the Risks Inherent in Your Retirement Plan
Pulse Check! IRS and DOL Hot Topics and Changes for 2019
Payment:
Please download the PDF invitation and complete/detach the registration form with an enclosed check for $25/attendee OR register and pay by credit card
This program is valid for 4 CPE credits and 3.5 PDCs for the SHRM-CPSM or SHRM-SCPSM.
$25/attendee – registration fee includes breakfast and materials.
Email questions to mstambaugh@cpabr.com
Related Materials
Professionals
Related Services