Boyer & Ritter's Benjamin Bostic among Central Penn Business Journal's 2022 Forty under 40 list of leading professionals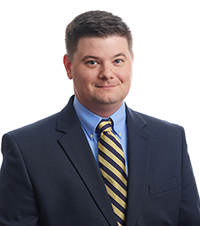 CAMP HILL, PA – Benjamin R. Bostic, who leads Boyer & Ritter's Chambersburg office and is a recently elected principal-owner of the firm, was recognized by the Central Penn Business Journal as among the region's leading 40 professionals 40 years of age and younger.
"The 2022 Forty Under 40 honorees represent the future of Central Pennsylvania. They have achieved professional success and are making significant contributions to our community and inspire change," said Suzanne Fischer-Huettner, the business magazine's senior group publisher. "We at the Central Penn Business Journal congratulate them and look forward to their future accomplishments."
Bostic, a CPA, provides tax and accounting services for closely held businesses in the Construction and Real Estate industries as well as for Small and Entrepreneurial Businesses.
A 2021 graduate of Leadership Harrisburg Area's Community Leadership Series, Bostic serves on the board of the Downtown Carlisle Association and is a member of the Keystone Chapter of Associated Builders and Contractors and the Construction Financial Management Association. He graduated from Shippensburg University with a Bachelor of Science degree in Accounting and Management Information Systems.
"Ben's talent and drive have made him a leader in our firm, and we are proud to see him recognized among our community's top professionals,'' said Boyer & Ritter CEO Robert J. Murphy, CPA, CVA/ABV. "Boyer & Ritter's success and unparalleled client service is due to our great team, and Ben is a critical member of that team.''
The winners will be honored Oct. 19 at a celebration from 5 to 7 p.m. at the Hilton Harrisburg, One North Second Street in Harrisburg, and profiled in the Oct. 28 issue of the Central Penn Business Journal as well as online at www.CPBJ.com For more information about Forty Under 40 and to purchase a ticket for the Oct. 19 event, visit www.CPBJ.com/event/forty-under-40/
About Boyer & Ritter LLC
For nearly a century, Boyer & Ritter has provided accounting, auditing, tax, and consulting services to businesses of varying sizes and industries throughout Pennsylvania and the continental United States. Boyer & Ritter has offices in Camp Hill, Carlisle, Chambersburg, and State College. For more information, visit www.cpabr.com
About Central Penn Business Journal
Central Penn Business Journal is the leading source of business news and information in Central Pennsylvania for the past 38 years. In addition to breaking news daily on its multimedia news site at www.CPBJ.com, it publishes a biweekly print edition. Central Penn Business Journal publishes various special focus sections on topics like real estate and construction and mergers and acquisitions in addition to the yearly Book of Lists. It also hosts 10 annual events, including Women of Influence, Reader Rankings, Fastest Growing Companies and Best Places to Work in PA, to recognize excellence and provide leadership opportunities.
###