PPP Loan Forgiveness Application - Updated Information
COVID-19 Webinars
05.22.2020 | 1pm EDT
This free webinar on PPP Loan Forgiveness Application: Updated Information was held on May 22, 2020 at 1pm EDT.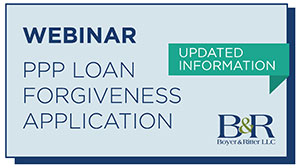 Download the slides from the May 22 webinar.
Webinar overview:
A review of the May 15, 2020 PPP Forgiveness Application
What does applying for loan forgiveness look like?
Review of questions answered by the application
Review of questions that are still unanswered
Review of a Case Study of Forgiveness Calculation
NOTE: For this webinar we recommend you download the 11 page Loan Forgiveness Application. Our presenters will guide you through and reference this document throughout the presentation.
Who should attend? Any businesses, sole proprietors or nonprofits that received PPP loans and have questions about next steps.
Presented by: Jay Goldman and Raymond Brown
Related Materials