Employee Retention Tax Credit (ERTC) Information Session
Speaking Engagements
Online Meeting (Live)
08.05.2021 | 9AM - 10:30AM EDT
Event Sponsor: Penn State SBDC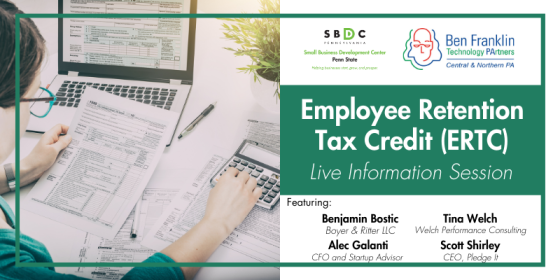 Benjamin Bostic, CPA was featured as an expert panelist for this live information session presented by Penn State SBDC and Ben Franklin Technology PArtners of Central and Northern PA. Topics include the ERTC program, how to maximize your tax credit, how other small businesses have been able to use the credit in conjunction with the PPP program, and what steps can be taken to amend past returns as well as file future returns to claim the credit.
To view this meeting recording, click here:
https://psu.zoom.us/rec/share/4YNG_Vb_cggLNtI5gzLoTPHUNm6CnU2ht84NN4CcHQdUnvPLpjK9TAhnlq7gOQI.ke901bpChZRm7cJL
Please note, the meeting recording will expire on August 30, 2021.