Inside Public Accounting again ranks Boyer & Ritter CPAs and Consultants among nation's top 250 largest firms 
Listed by annual revenue, Boyer & Ritter is one of PA's eight top accounting firms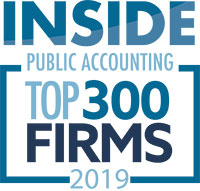 CAMP HILL, PA – For the third straight year, Boyer & Ritter LLC's commitment to providing quality client service has earned the Camp Hill-based firm a spot among the nation's top 300 largest firms ranked by annual revenue according to Inside Public Accounting (IPA).
Based on annual revenue, Boyer & Ritter ranked 242 nationally and sixth among the eight Pennsylvania firms making the list. For the full list, go to http://insidepublicaccounting.com/newsletters/ipa-100-ipa-200-ipa-300/
"I believe the recognition our firm has received underscores the dedication and hard work of our team,'' said Boyer & Ritter principal and CEO Robert J. Murphy, CPA, CVA/ABV. "We remain committed to offering the attention clients expect from a locally-based firm while providing the expertise customarily found only in larger, national firms.''
Earlier this year, Boyer & Ritter was recognized as one of Mid-Atlantic's top accounting firms for the fourth straight year by Accounting Today Magazine. Pennsylvania Business Central also named Boyer & Ritter among the "Top 100 Organizations" in the state for the fourth year in a row as well.
For nearly a century, Boyer & Ritter has provided accounting, auditing, tax, and consulting services to businesses of varying sizes and industries throughout Pennsylvania and the continental United States. Boyer & Ritter has offices in Camp Hill, Carlisle, Chambersburg, and State College.