Funding available to help schools weather the pandemic
COVID-19 Articles
05.06.2020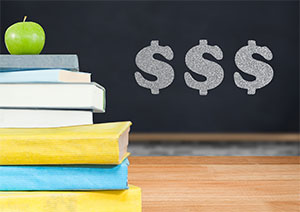 From new grants to changes in federal programs allowing schools to buy laptops and other computer equipment for homebound students, an array of programs are available to help districts cope with the financial hardships caused by the coronavirus pandemic.
The financial options and programs are frequently changing, making it critical for districts to monitor updates from the Pennsylvania Association of School Business Officials (PASBO, www.pasbo.org), Government Finance Officers Association (GFOA, www.gfoa.org), and the Pennsylvania Department of Education (PDE, www.education.pa.gov)
Recently, PDE allocated up to $5 million in state funding for equity grants for schools to purchase computer equipment, such as laptops, tablets, and internet hot spots to use toward providing instructional materials, such as paper lessons and coursework. Districts can apply for the money on PDE's website.
Additionally, the Pennsylvania Emergency Management Agency (PEMA) is asking school districts, along with other governmental entities and nonprofits, to report coronavirus-related expenses. PEMA will also use the information to invite participants to sign up in FEMA's grants portal for potential expense reimbursement. To learn more and enter your district's information, go to: https://www.education.pa.gov/Schools/safeschools/emergencyplanning/COVID-19/messages/Pages/April5.aspx
Boyer & Ritter is tracking the latest changes, and our team is available to help with questions. The following is the latest breakdown of the help available for your district:
CARES Act impact for Schools
The Coronavirus Aid, Relief, and Economic Security (CARES) Act provides funding and flexibilities for states to respond to the COVID-19 emergency in K-12 schools.
Education Stabilization Fund
Included in the CARES Act is the Education Stabilization Fund that provides $13.5 billion in K-12 formula grants to states. States receive grants based on their share of ESEA Title I-A funds. State education agencies will then distribute at least 90% of funds to school districts and public charter schools based on their share of Title I-A funds.
Eligibility for these monies is dependent on the school district's commitment to paying its employees and contractors to the greatest extent practicable during pandemic-related disruptions or closures.
Funds are available for:
Any activity authorized by ESEA, the Individuals with Disabilities Education Act, the Adult Education and Family Literacy Act, the McKinney Vento Homeless Youth Act and the Perkins Act.
Providing resources necessary to address the needs of individual schools, including online learning.
Purchasing educational technology for students, including one-on-one devices and internet connectivity.
Providing mental health services and support.
Planning and implementing summer learning and supplemental afterschool programs.
Meeting the needs of low-income students, students with disabilities, English learners, racial and ethnic minorities, students experiencing homelessness and foster care youth
Planning and coordinating student meal services.
Developing and implementing virus emergency response efforts.
Training staff on sanitation and how to minimize the spread of infectious disease.
Purchasing sanitation and cleaning supplies.
Planning for and coordinating during long-term closures.
Other activities necessary to maintain the operation of and continuity of services and continuing to employ existing staff.
Working with partner organizations and nonprofits to address community needs.
The CARES act allocated $100 million for Safe Schools and Citizenship Education initiatives through project SERV which provides education-related services, including counseling and referrals for mental health services, to local educational agencies.
Federal program financial requirement impacts
New federal compliance requirements are in place to help districts deal with COVID-19 expenses. Among the main changes:
Districts can request a waiver to carry over more than 15 percent of 2019-2020 school year Title I funding beyond the 2019-2020 school year.
Unused Title II, III, and IV 2019-2020 funds can be 100 percent carried over for an additional 12 months or up to Sept. 30, 2021.
Title, I, II, and IV funds can be used for purchases such as laptops, iPad, hotspots and software programs during the school closure as long as they are used immediately and not inventoried.
Districts can continue charging salaries and benefits to currently active Federal awards consistent with the recipients' policy of paying salaries (under unexpected or extraordinary circumstances) from all funding sources, Federal and non-Federal. Documentation substantiating the charging of any salaries and other project activities costs related to interruption of operations or services must be maintained (as required under 2 CFR § 200.302 and 2 CFR § 200.333).
District can claim on active Federal awards costs related to the cancellation of events, travel, or other activities necessary and reasonable for the performance of active grants. Additionally, costs related to the pausing and restarting of grant-funded activities due to the public health emergency are reimbursable as well. (These reimbursement requests may be made without regard to 2 CFR § 200.403, Factors affecting allowability of costs, 2 CFR § 200.404, Reasonable costs, and 2 CFR § 200.405, Allocable costs. As mentioned above, appropriate documentation is required.)
If schools continued to serve meals after the shut-down the NSLP program waived the eligibility requirement for all students. However, if a school continued to supply meals under the NSLP after the schools were shut down, a waiver was needed from PDE.
Awarding agencies may waive the procurement requirements contained in 2 CPR§ 200.319(b) regarding geographical preferences and 2 CPR§ 200.321 regarding contracting small and minority businesses, women's business enterprises, and labor surplus area firms.
To the extent permitted by law, awarding agencies may extend awards that were active as of March 31, 2020 and scheduled to expire prior or up to Dec. 31, 2020, automatically at no cost for a period of up to 12 months.
Awarding agencies, in their capacity as cognizant or oversight agencies for audit, should allow recipients and subrecipients that have not yet filed their single audits with the Federal Audit Clearinghouse as of March 19, 2020 that have fiscal year-ends through June 30, 2020, to delay the completion and submission of the Single Audit reporting package, as required under Subpart F of 2 CFR § 200.501 -Audit Requirements, to six (6) months beyond the normal due date.
This is not an all-inclusive list and more items can be found via links on PDE's website.
Moving forward
As Pennsylvania and the entire nation continues to grapple with the economic fallout caused by COVID-19, the assistance available to school districts are frequently changing. We are ready to help you navigate the complex regulations and secure the maximum funding possible.
Please contact the firm's Government Services Group at 717-761-7210 or info@cpabr.com